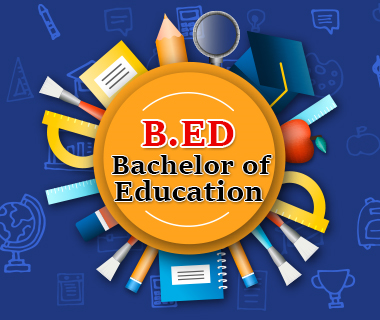 Course
1.Approved Intake
100 students of B.Ed. Regular Course.
2.Admission Procedure
B.Ed admission is done by the Matsya University Alwar on rotation basis. All the admission in the Haryana State is
done by one of the Government University through counselling. Admissions are centralized. The College cannot admit single student without Counselling. Rules and Regulations of the admission are framed by the concerned University.
3.Academic Session
.The B.Ed regular Two-year course period commence from July and continue upto June. July & August are the admission months while April to June are the Months of examination.
4.Fee Structure
.The fee structure as decided by the Matsya University Alwar.
5.BACHELOR OF EDUCATION (B.Ed.)
The college has obtained Recognition from NCTE, Jaipur and got affiliated to Matsya University Alwar. After availing affiliation from Matsya University Alwar, the college started functioning on Sept. 2008 with approved intake of 100 students
6.Documents Required for Admission
.Candidate seeking admission must apply on prescribed application form of the Institute.
.Candidate should bring all original certificates and documents along with him/her at the time of admission.
.The application form must be accompanied by the two set of following documents attested by competent Authority.
.Original Institute Copy and Photocopy of Student Copy of Seat/Institute Allotment Letters and Admission Letter/Seat Confirmation Letter issued by University after Counselling & counselling Fee receipt.
.Original Admit Card of Entrance Test.
Objectives of the course:
To develop competencies and skills needed to become effective teachers.
To understand the self and others, one's beliefs, assumptions, emotions and aspirations, develop the capacity for self-analysis, self-evaluation, adaptability, flexibility, creativity and innovation.
Develop habits and capacity for self-directed learning, have time to think, reflect, assimilate and articulate new ideas, be self- critical and to work collaboratively in groups.
Engage with subject content, examine disciplinary knowledge and social realities, relate subject matter with the social milieu of learners and develop critical thinking.
Develop professional skills in pedagogy, observation, documentation, analysis and interpretation, drama, craft and reflective inquiry.
To promote social cohesion, international understanding and protection of human rights and other day to day awareness.
Enable the perspective teachers to understand the nature, purpose and philosophy of secondary education.
Develop among teachers an understanding of psychology of their pupils.
Enable them to make pedagogical analysis of the subjects they are to teach at the secondary stage, develop skills for guidance and counselling.
Enable them to acquire competencies relevant to stage specific pedagogy, curriculum development its transaction and evaluation.
Enable them to foster creative thinking among pupils for reconstruction of knowledge.
Acquaint them with factors and forces affecting educational system and classroom situation.
Acquaint them with educational needs to special group of pupils.
Enable them to utilize community resource as educational inputs.
Develop communication skills and use modern information technology for school purpose.
Develop aesthetic sensibility.
Communicate its goals and objectives systematically and clearly to all students;
Adopt a non-discriminating approach towards students;
Properly orient students towards developing an all-round personality;
Offer programmes that are consistent with its goals and objectives.
PROGRAMME OVERVIEW
Middle, Secondary & Senior Secondary Teacher Education Programme: B.Ed.
The Secondary Teacher Education (B.Ed.) prepares prospective and practicing middle and high school teachers for teaching & leadership roles in schools and other educational institutions. Following important features characterize the B.Ed. program of study
Students are expected to have or to develop a firm foundation of content knowledge in the subject areas of English, History and Social Studies, Mathematics, or Science. The program of study strives to develop and transform that content knowledge into effective and relevant pedagogical approaches.

Faculty seeks to develop dialogue and connections among faculty and students concerning the major issues facing schooling in the India. Our goal is to raise awareness of issues of equity and then work with educators to develop principles and methods to enable all students to reach their full potential.

Faculty believes that becoming a teacher is a process of intellectual and emotional development. The program of study blends academic study in a discipline with professional preparation in education that includes applied work in schools and clinical settings prior to student teaching.

Faculty explores teaching and learning from a constructivist perspective, believing that people learn effectively when they can integrate new knowledge into what they already know and understand. Teacher candidates work to reconstruct their past experiences, construct new knowledge, and become active, responsible, and collaborative participants in a community of learners and teachers.

Faculty collaborates with a network of teachers in urban, suburban, and rural communities throughout the Rewari District in clinical sites and other schools that welcome our student teachers and provide them opportunities to explore and develop as educators.
B.Ed. Eligibility
Duration – 2 years
Level – Graduation
Type – Degree
Eligiblity – Graduation
The minimum qualification required for entry into B.Ed. course is Bachelor of Arts (B.A), Bachelor of Science (B.Sc.) or Bachelor of Commerce (B.Com.) form a recognised board/university with at least 50% marks.

These exams are generally held in the month of June-July and consist of Objective type questions on the subject of English, General Knowledge, Aptitude, Basic Arithmetic Teaching Potential and one local language in some states. The results of these exams are generally out by July/Aug. Candidates go through practical training courses, apart from theory classes

Students need to appear in an entrance test conducted by the various states and Independent educational bodies and universities for admission in various teaching institutions attached with it according to the rank of the candidate in the entrance exam.

Candidate seeking admission must apply on prescribed application form of the Institute.

Candidate should bring all original certificates and documents along with him/her at the time of admission.

The application form must be accompanied by the two set of following documents attested by competent Authority.
Original Institute Copy and Photocopy of Student Copy of Seat/Institute Allotment Letters and Admission Letter/Seat Confirmation Letter issued by University after Counselling & counselling Fee receipt.

Original Admit Card of Entrance Test.

Photocopies of the Mark sheets and Certificates of High School (10th) and Intermediate (12th).

Photocopies of the Mark sheets of all years of B.A./B.Sc./B.Com./B.P.E./M.A./M.Sc./M.Com/any other qualification equivalent Degree of Graduation and Post-Graduation.

Photocopy of Aadhaar Card

Photocopy of any one Identity Proof (PAN Card / Driving License / Voter Card / Rashan Card with photo or any other identity proof).

Photocopy of the Caste Certificate of SC/ST/OBC/PH if applicable.

Photocopy of the Domicile Certificate of Haryana in case if all education is from outside of Haryana for Haryana Resident Category.

Original Character Certificate from the college last attended or from any competent authority.

Original Physical and Medical Fitness Certificate from CMO of government hospital.

Original Name change certificate (if name has been changed after marriage) (two copies).

Original Gap certificate if any break in Education before taking admission in B.Ed.

Six recent photographs.

Original Migration Certificate if last education is from any University other than M.D. University Rohtak.(Required at the time of filling University Exam Form. Please keep one photocopy with yourself)